XpertHR data finds that employers with a mature approach to DEIB practices are more likely to see improvements in key business metrics 
New York City (December 14, 2022) – A new survey from HR strategy and compliance software provider, XpertHR, indicates employers with future-focused approaches to diversity, equity, inclusion and belonging (DEIB) are far more likely to report improvements in employee engagement, turnover, and net promoter scores than companies that only approach DEIB from a legal compliance and risk
mitigation perspective.
Other top takeaways from the XpertHR 2022 Diversity, Equity, Inclusion and Belonging Trends Survey include: 
– 34% of companies approach DEIB purely from a risk mitigation perspective, while two-thirds (66%) have more mature approaches that acknowledge, demonstrate commitment to or take a future-focused approach to DEIB practices.
– DEIB practices are considered important or very important to 61% of responding companies, but only 42% report being ready to improve their DEIB practices, and most companies do not have an active, documented DEIB strategy.
– Although DEIB commitment has a clear correlation with key business metrics, only 37% of responding companies have procedures in place to hold leaders accountable for accomplishing specific DEIB goals and objectives.
– Larger organizations overwhelmingly have better DEIB plans and more resources to dedicate to diversity, while smaller organizations have few resources and no plans for DEIB.
"Companies that take a proactive approach to DEIB are more likely to report recent improvements in metrics like turnover than companies that only meet the bare minimum legal requirements," says Victoria Kelleher, Lead Survey Specialist at XpertHR.  "We'd need more research to know if this relationship is actually causal, but the results are promising." 
Companies were classified based on the maturity of their approaches to DEIB, with the least mature group only addressing DEIB for the sake of legal compliance, the second-most mature group showing awareness towards DEIB and the most mature group committing to DEIB initiatives. Next, employers were asked about their key business metrics and whether they improved, worsened, or didn't change from 2021 to 2022. Those with more mature approaches, the "Commitment" and "Awareness" categories, were more likely to see improvements than those sticking to a compliance-based plan in three key areas:  
– Key talent turnover – 42% of employers following the "Commitment" approach saw better turnover from 2021 to 2022, as did 28% of "Awareness" employers and 25% of "Compliance" employers. 
– Employee engagement – 60% of "Commitment" organizations and 44% of "Awareness" organizations saw improved engagement with their employees. Only 33% of "Compliance" organizations reported the same. 
– Net promoter score – 55% of "Commitment" companies and 44% of "Awareness" companies had higher scores, with 37% of "Compliance" companies reporting the same.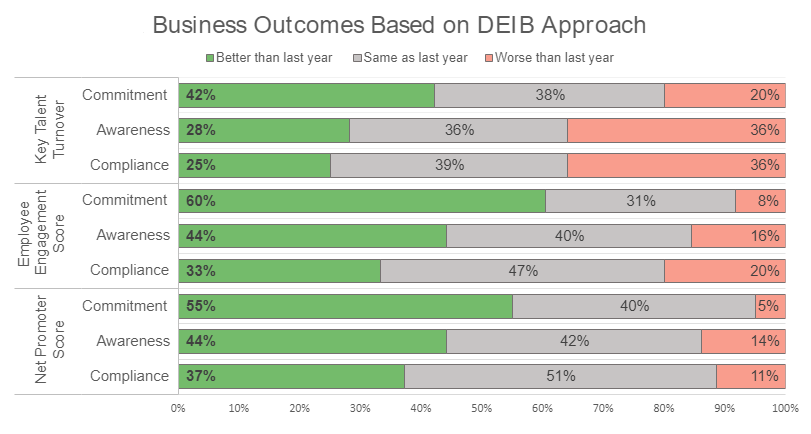 Image caption: Companies approaching DEIB from either a Commitment or Awareness approach see more improvement than companies using the Compliance approach.   
A little less than half of the companies surveyed enforce DEIB training programs that include education on topics such as unconscious bias or psychological safety, in addition to just compliance information. Yet the XpertHR research shows that companies which offer this training were more likely to report improvement in metrics such as employee engagement, turnover, and net promotor scores.
"It's clear that companies who invest resources to train employees on topics that promote a more inclusive company culture were more likely to report recent improvements on these metrics," Kelleher explained.
But, she acknowledged, training efforts can often be hampered by operational realities such as appropriate planning and resource allocation. The XpertHR survey also examined DEIB strategies by business size and found that most small organizations do not have a DEIB strategy (33%) or have a plan in progress (35%). On the other end of the scale, most larger businesses had a documented strategy (28%) or a comprehensive strategy (30%). Unsurprisingly, having a plan leads to more resource allocations; the survey found that most larger organizations had some resources to devote to DEIB (59%) than not (41%). The same was the opposite for smaller companies, with 68% having no or very few resources and only 32% having DEIB resources.

"Developing a DEIB strategy is hard work, but it's likely worth the investment for employers to show their commitment now more than ever," says Kelleher. "Some recent studies have found that more than 80% of workers would consider leaving a job if they felt that their company wasn't committed to DEIB values."
The XpertHR 2022 Diversity, Equity, Inclusion and Belonging Employer Trends Survey was conducted from August 17, 2022, to September 14, 2022, using a self-administered online survey. The survey sample included 276 employers from across the US.
About XpertHR®
Global leader XpertHR empowers organizations to shape HR strategy, manage employee risk and embrace diverse talent ecosystems to create equitable, high-performing and purposeful workplaces. Since 2002, the data analytics and intelligent solutions provider has earned a reputation for providing expert insights, trusted resources and practical tools to help customers achieve greater efficiency, improve compliance and increase employee engagement. XpertHR is proud to be part of the LexisNexis® Risk Solutions portfolio within RELX, a global provider of information-based analytics and decision tools for professional and business customers. To learn more visit xperthr.com.
See Campaign:
https://www.xperthr.com/
Contact Information:
Name: Lauren Doyle
Email: [email protected]
Job Title: Communication Specialist

Tags:
IPS
,
Reportedtimes
,
Google News
,
Financial Content
,
PR-Wirein
,
Nexis Newswire
,
CE
,
Go Media
,
Extended Distribution
,
iCN Internal Distribution
,
English