Over the past year or so, the world has seen drastic declines in tourists flocking to international travel and leisure destinations. Thankfully though, there are signs of recovery. Each passing day brings new proof that international travel is safe, confirming that now's the time to start planning that long-delayed vacation.
For those of you wondering where to go, Travel Magazine USA features a wealth of ideas and destinations to consider. And for those that are still wondering whether it's safe to go, just look at the indicators that say "Yes, it is!".
Life after lockdown
So, what indicators should one look at to start polishing up your 2021-onwards travel bucket list ideas?
Well, here's one signal that never fails – the stock market. They say smart money always follows reality; so, if you want a reality check on the travel and leisure industry, follow the stock of the largest industry player – Royal Caribbean Cruises Ltd. Servicing destinations from Africa to Antarctica, and everyplace in-between, this behemoth of the cruise industry is the canary in the coal mine for travel and leisure seekers.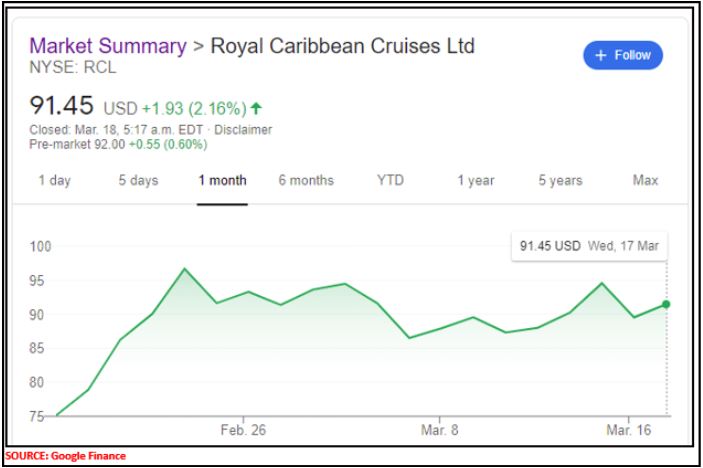 Over the past month, the stock price has climbed from $75.12 to $91.45 – a nearly 22% rise in less than a month! – proving that smart people have already started betting on travel revival.  Industry analysts predict that bookings are set to rise between 30% to 35% of pre-covid era. Competing cruise company Norwegian Cruise Line also reports strong pent-up demand.
Not a huge fan of the seaways?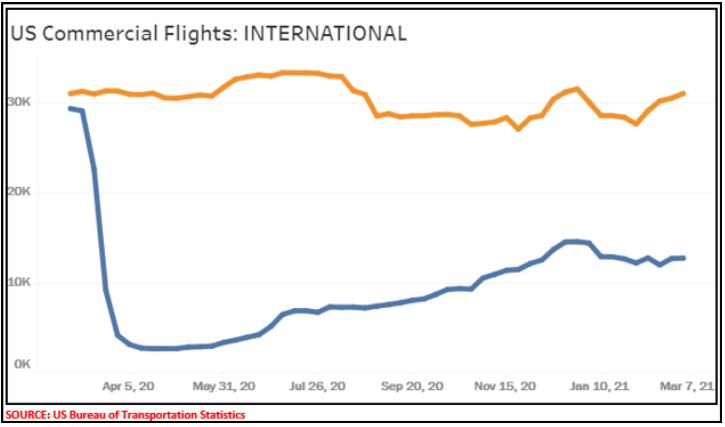 Well, you can always fulfil your bucket list Ideas by flying to a destination of your choice! The U.S. Bureau of Transportation's statistics show an increasing number of people boarding international flights (focus on the blue line), with more confidence building that international travel is safe – and getting safer by the day! In fact, the Bureau noted recent daily flight records of 1.3 million-plus passengers – more than at any time since March 2020.
What's the rush – Why now?
Well, half of the fun in travelling to distant destinations comes from enjoying the sights, sounds, tastes and smells of those places. Meeting new people and experiencing new cultures broadens one's horizon and gives you a new appreciation of life.  From exotic destinations like the Maldives and Hawaii, to romantic must-see places like Rome, Italy and Paris, to quaint Scotland, mysterious Iceland, and awe-inspiring Colorado and Texas – unless you set foot on a boat, airplane, train or bus, you'll never experience what you're missing.
So many of us have experienced stress lately, like we've never experienced in a long while. Now's the time to venture further away from home and relieve some of that stress. But the other half of that experience comes from enjoying your trips at a reasonable cost.
So, why now? Because the industry is eager to have you resume travel, they're offering unbelievable deals and promotions on everything. From air fare and cruise passages, to hotel room charges and even guided tour package rates. You'll find some great tips and ideas on how to find them at Travel Magazine USA.
The thing about these deals, however, is that they're unlikely to remain valid for too long. Once more travelers start dusting up their own travel bucket lists and availing of the promos, you might miss out on a deal of a lifetime. So, now's definitely the time!