LexisNexis Media Monitoring Solution Secures Top Honor as Best Content Search & Discovery Solution
NEW YORK CITY, NY — LexisNexis® Legal & Professional, a leading provider of content and technology solutions, announced today that
Nexis Newsdesk

was once recognized in the annual
SIIA CODiE

Awards
, winning best Content Search & Discovery Solution. 2021 marks the fifth consecutive year that Nexis Newsdesk has received top marks from judges in the prestigious competition, the only peer-reviewed program to recognize the companies producing the most innovative business technology products across the country, and around the world. "Newsdesk is proof that customer-driven innovations work," said Todd Larsen, President of Nexis Solutions, "We have conversations with our customers regularly to ensure our solutions deliver the answers they need to be successful." An all-in-one media monitoring and analytics solution, Nexis Newsdesk enables insight discovery for brand messaging, reputation management, executive positioning, competitive intelligence and more. The platform earned praise this year for its intuitive interface, visual dashboard, powerful filtering and flexible alerts, providing a "very efficient and effective way to report on PR performance and opportunities," according to the judges' comments. "It is always an honor to be recognized by your peers, and this year marks another milestone—securing a CODiE award for the fifth year in a row," said Manon van der Velde, Vice President, Product. "We'd like to thank the SIIA and the CODiE judges." Acknowledged as the premier awards program for the software and information industries for over 35 years, the
SIIA CODiE Awards
are produced by the
Software & Information Industry Association
(SIIA), the principal trade association for the software, education, media and digital content industries. Nexis Newsdesk was honored as one of 46 winners across the 43 business technology categories, including two categories in response to COVID-19. "The products honored this year hold a particularly special place in the distinguished history of the CODiEs," said SIIA President Jeff Joseph. "Many of these winners literally helped business survive, and even thrive, as the global business community transitioned to remote status due to the pandemic. All those honored today demonstrate the resilience of this dynamic industry. Innovation continued even in the face of an unprecedented challenging year." More information about the Awards is available at:
siia.net/CODiE
. Details about the winners are listed at
https://history.siia.net/codie/2021-Winners
About LexisNexis Legal & Professional
LexisNexis Legal & Professional
®
is a leading global provider of legal, regulatory and business information and analytics that helps customers increase productivity, improve decision-making and outcomes, and advance the rule of law around the world. As a digital pioneer, the company was the first to bring legal and business information online with its Lexis
®
and Nexis
®
services. LexisNexis Legal & Professional, which serves customers in more than 160 countries with 10,400 employees worldwide, is part of RELX, a global provider of information-based analytics and decision tools for professional and business customers.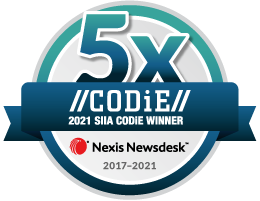 About Nexis® Solutions
Nexis Solutions, as part of LexisNexis® and the global RELX corporate family, connects customers to market-leading data through a flexible suite of scalable solutions, including our award-winning Nexis® Newsdesk media intelligence platform. By enabling fast access to a vast universe of enriched data with intelligent technologies, Nexis Solutions empowers Business, Media, Non-Profit, Government, and Academic organizations worldwide to quickly discover actionable insights that enable confident, performance-driving decisions.
About the SIIA CODiE

Awards
The
SIIA CODiE Awards
is the only peer-reviewed program to showcase business and education technology's finest products and services. Since 1986, thousands of products, services and solutions have been recognized for achieving excellence.  For more information, visit
siia.net/CODiE
.
Contact:
Megan Burnside, Director of Global Marketing LexisNexis | Nexis Solutions
megan.burnside@lexisnexis.com
Twitter: @
NexisSolutions
LinkedIn:
https://www.linkedin.com/showcase/lexisnexis-business-insight-solutions/
See Campaign:
https://www.lexisnexis.com/en-us/professional/media-monitoring/newsdesk.page
Contact Information:
Megan.burnside@lexisnexis.com
Tags:
,
PR-Wirein
,
Nexis Newswire
,
Financial Content
,
Google News
,
Reportedtimes
,
IPS
,
Menafn
,
Extended Distribution
,
iCN Internal Distribution
,
English
Contact Information:
Megan.burnside@lexisnexis.com