Oct 8, 2020 8:00 AM ET
iCrowd Newswire – Oct 8, 2020
Zion Market Research has published a new report titled "Global Webcam Market by product (Wireless And Universal Serial Bus(USB)) by technology (Analog Webcams And Digital Webcams) by End-Uses (Defense, Visual Marketing, Life Events, Healthcare, Sports And Others) and by Region: Global Industry Perspective, Comprehensive Analysis and Forecast, 2020 – 2026". According to the report, the Webcam Market analysis was valued at around USD 6,100 Million in 2019 and is expected to reach over USD 10,880 Million by 2026, growing at a CAGR of approximately 8.6% during the forecast period from 2020 to 2026.
Get Access to the FREE sample report @ https://www.zionmarketresearch.com/sample/webcam-market
Web Camera or simply Webcam is a video feeding camera that is attached on the desktop or inbuilt in laptops. Webcam can stream still pictures or videos over the internet. Webcams deploy high resolution digital cameras that capture high quality videos and still pictures and semiconductor chips.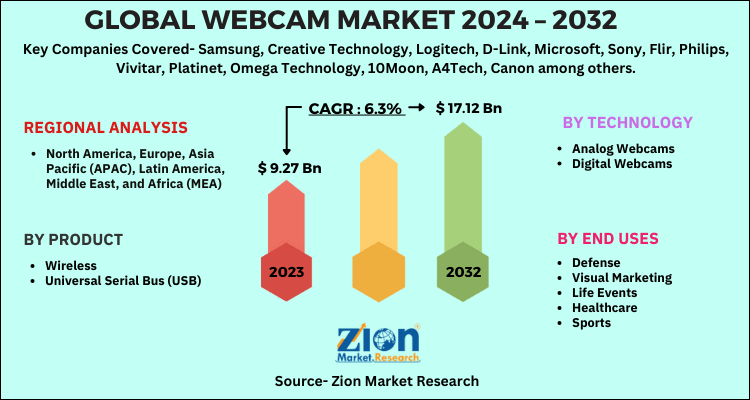 The streamed video can be saved or viewed. Webcams are used extensively at workstations to interconnect with colleagues and employees from different locations. This had reduced physical face to face gathering. Webcams can be used for video conferencing of two or more than two people using high definition and therefore making it cost effective by reducing business travels. Healthcare sector uses the benefits of webcam technology for vital as well as prenatal care. Since, webcams are used for high security, business conferencing, healthcare domain, etc. it triggers the market for rise in manufacturing of product.
Webcam connected to the computer can be hacked by a hacker and used to spy. Webcams also offer low video quality. However, high-definition USB webcams are also available offering a resolution rate of 1080p. Fluctuations in the speed of internet act as a restriction to market growth. Internet speed of at least 128Mbps is required to avoid any kind of video distortions.
Analog camera are equipped with analog optical chips i.e., Charged Coupled Devices (CCD). Charged Coupled Devices are used as a transducer to convert optic signals to electric signals. Real time monitoring is mounted with high resolution digital cameras and semiconductor chips. The digital cameras can capture the images and videos in detail. Developing the need of security systems arises the demand of webcams.
USB cameras can be connected to laptops or desktops using cables or wires. USB webcams are less inclined to heat and contains larger exterior that allow heat to diffuse quickly. USB webcams are portable and can be connected or disconnected according to the requirement. USB cameras accounts for nearly 58% of the revenue in 2026. Wireless cameras can be connected to desktops using Wi-Fi or Ethernet. Wireless web cameras are predicted to bystand faster placement over the forecast period of 2020-2026.
Asia Pacific is dominant and witness for the largest share in market. Less expensive cameras introduced by local Chinese companies gives rise to growth of country. Some of the key market players in market are Samsung, Creative Technology, Logitech, D-Link, Microsoft, Sony, Flir, Philips, Vivitar, Platinet / Omega Technology, 10Moon, A4Tech, and Canon.
This report segments the Webcam market analysis as follows:
Global Webcam Market Analysis by Product-
Wireless
Universal Serial Bus(USB)
Global Webcam Market Analysis by Technology-
Analog Webcams
Digital Webcams
Global Webcam Market Analysis by End Uses –
Defense
Visual Marketing
Life Events
Healthcare
Sports
Others
Global Webcam Market Analysis by Region-
North America
Europe
Asia Pacific
Latin America
Middle East and Africa
To view TOC of this report is available upon request @ https://www.zionmarketresearch.com/toc/webcam-market
Contact Information:
Zion Market Research
244 Fifth Avenue, Suite N202
New York, 10001, United States
Tel: +49-322 210 92714
USA/Canada Toll-Free No.1-855-465-4651
Email: sales@zionmarketresearch.com
Website: https://www.zionmarketresearch.com
---
Keywords: Webcam Market