Oct 8, 2020 8:29 AM ET
iCrowd Newswire -
Oct 8, 2020
Zion Market Research has published a new report titled "Plastic Rigid IBC Market by Product Type (Linear Low-Density Polyethylene (LLDPE), Low-Density Polyethylene (LDPE), High-Density Polyethylene (HDPE), Polyvinyl Chloride (PVC), and Others), by Capacity (Less Than 500 Liters, Between 500 and 1000 Liters, Between 1000 and 1500 Liters, Between 1500 and 2000 Liters, and More Than 2000 Liters), and by End-User (Petroleum & Lubricants, Industrial Chemicals, Paints, Inks and Dyes, Food & Beverages, Pharmaceuticals, and Others): Global Industry Perspective, Comprehensive Analysis, and Forecast, 2017—2024". According to the report, the global plastic rigid IBC market was valued at approximately USD 2.83 billion in 2017 and is expected to generate revenue of around USD 4.40 billion by 2024, at a CAGR of around 6.2% between 2018 and 2024.
Plastic rigid intermediate bulk containers are cost-effective and reusable in nature. In rigid bulk packaging, the plastic material is largely used due to their numerous performance benefits. Plastic rigid IBC is a rigid and self-standing container, which is made from polymeric material. IBCs are mostly used to store and transport liquids in bulk quantity, such as food ingredients, chemicals, solvents, pharmaceutical products, and granulated substance.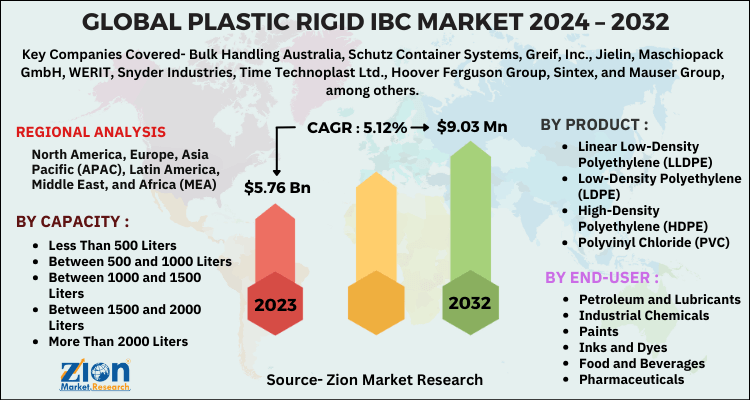 The escalating product demand across food and beverages sector, owing to the wide use of plastic rigid IBCs for storing and transporting food items and beverages in bulk quantity from their manufacturing location is likely to drive the plastic rigid IBC market in the future. The lubricants and petroleum industry are also witnessing an increased use of plastic rigid IBC, as these containers can safely transport all types of solid or liquid products.
By product type, the plastic rigid IBC market is segmented into linear low-density polyethylene (LLDPE), low-density polyethylene (LDPE), high-density polyethylene (HDPE), polyvinyl chloride (PVC), and others. The HDPE segment held a major revenue share in 2017, owing to the rising product demand due to their cost-effectiveness and flexibility. By capacity, the market is divided into less than 500 liters, between 500 and 1000 liters, between 1000 and 1500 liters, between 1500 and 2000 liters, and more than 2000 liters. The between 500 to 1000 liters capacity segment is expected to dominate the plastic rigid IBC market over the estimated timeline, owing to the increased product demand from several industries, such as agrochemicals and food and beverages. The end-user segment includes petroleum and lubricants, industrial chemicals, paints, inks and dyes, food and beverages, pharmaceuticals, and others. The food and beverages industry held a major market share in the year 2017, owing to the rising demand for transportation and storage of bulk food products and beverages across various locations from the manufacturing units. The petroleum and lubricants sector is predicted to register the highest CAGR over the forecast timespan.
By region, Asia Pacific is expected to dominate the plastic rigid IBC market in the upcoming years. This regional growth can be attributed to the increasing technological advancements and rapid industrialization in the Asia Pacific region. Moreover, the availability of cheap labor in the region and rising transportation and storage requirements for bulky goods is likely to further contribute toward the region's plastic rigid IBC market. North America is expected to contribute significantly toward the global plastic rigid IBC market over the estimated timeframe. The region's food and beverages industry majorly use plastic rigid IBCs to store and transport food products and liquids.
Some major players operating in the global plastic rigid IBC market are Bulk Handling Australia, Schutz Container Systems, Greif, Inc., Jielin, Maschiopack GmbH, WERIT, Snyder Industries, Time Technoplast Ltd., Hoover Ferguson Group, Sintex, and Mauser Group, among others.
This report segments the global plastic rigid IBC market into:
Global Plastic Rigid IBC Market: Product Type Analysis
Linear Low-Density Polyethylene (LLDPE)
Low-Density Polyethylene (LDPE)
High-Density Polyethylene (HDPE)
Polyvinyl Chloride (PVC)
Others
Global Plastic Rigid IBC Market: Capacity Analysis
Less Than 500 Liters
Between 500 and 1000 Liters
Between 1000 and 1500 Liters
Between 1500 and 2000 Liters
More Than 2000 Liters
Global Plastic Rigid IBC Market: End-User Analysis
Petroleum and Lubricants
Industrial Chemicals
Paints
Inks and Dyes
Food and Beverages
Pharmaceuticals
Others
Global Plastic Rigid IBC Market: Regional Analysis
North America
Europe
Asia Pacific
Latin America
The Middle East and Africa
You can Buy This Report from Here @ https://www.zionmarketresearch.com/buynow/su/plastic-rigid-ibc-market/news
Contact Information:
Zion Market Research
244 Fifth Avenue, Suite N202
New York, 10001, United States
Tel: +49-322 210 92714
USA/Canada Toll-Free No.1-855-465-4651
Email:
[email protected]
Website: https://www.zionmarketresearch.com
---
Keywords:    Plastic Rigid IBC Market